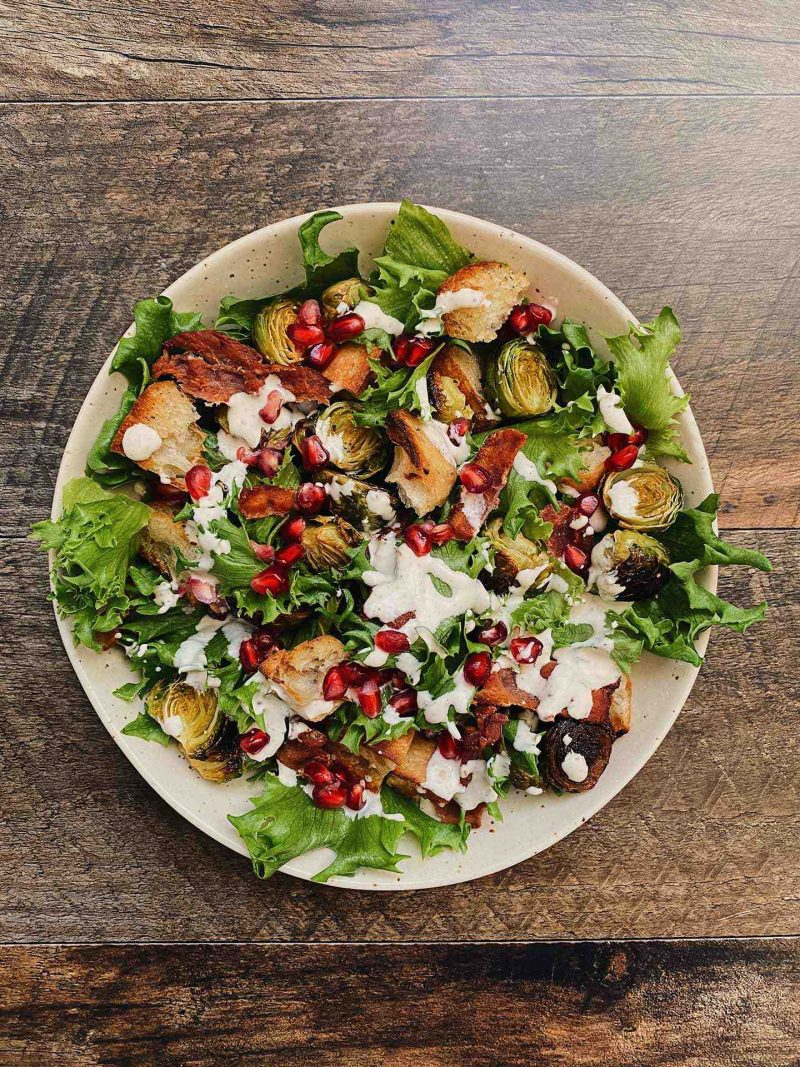 Preparation: 30 minutes.
Cook time: 20 minutes.
Servings: 2 servings
Ingredients
2 heads of Gen V crispy lettuce
10-12 Brussels sprouts, cut in 2 or 4
4 slices of bacon
1/2 ciabatta bread, cut in cube
1/2 cup of pomegranate arils
1 garlic clove, grated
1 tbsp or 15 ml of mayonnaise
2 tbsp or 30 ml of sour cream or plain yogurt
1/2 tbsp or 7.4 ml of steak spices
1/2 lemon, zest and juice
Olive oil
Salt and pepper
Preparation
Preheat the oven to 425 ° F. Place the Brussels sprouts on a baking sheet covered with baking paper. Drizzle oil on it. Salt and pepper. Bake for 20-25 minutes.
Place the bacon slices in a pan and heat over medium high heat. Cook the slices, 3-5 minutes per side, until crispy. Remove from the pan and place on absorbent paper. Crumble.
Add the pieces of bread to the pan and cook, 4-6 minutes, until crispy.
Combine garlic with mayonnaise, sour cream, spices, lemon juice and zest. Add 1-2 tbsp of water for a softer sauce. Add salt and pepper to taste.
Separate the lettuce leaves and toss with the Brussels sprouts, bacon, croutons, pomegranate arils and Caesar sauce.