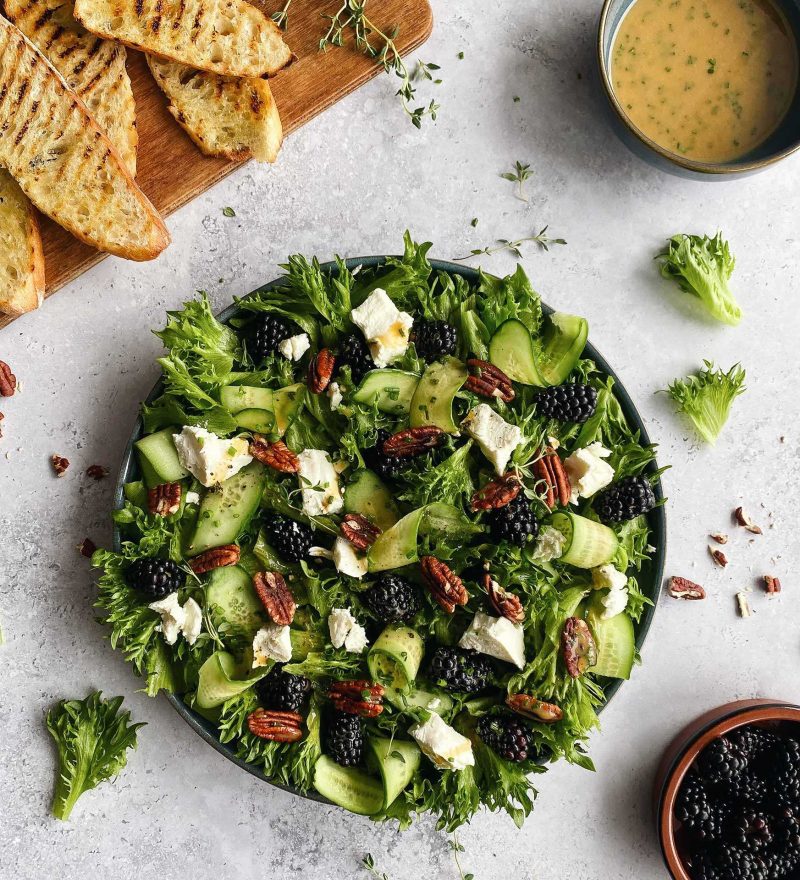 Preparation: 10 minutes.
Cook time: 5 minutes.
Servings: 1 serving
Ingredients
1 head of crispy lettuce
2 mini cucumbers
1 log of goat cheese
1 box of blackberries
A few stalks of chives
3 tbsp or 45 ml of pecans
2 tbsp or 30 ml of honey
1 tbsp or 15 ml of Dijon mustard
1 tbsp or 15 ml of red wine vinegar
2 tbsp or 30 ml of olive oil
Bread croutons
Preparation
Setup: Chop about 1 tbsp of chives. Cut the cucumbers into thin slices, lengthwise.
Toast the pecans: In a skillet over medium heat, roast the pecans for 4-5 minutes. Remove from the pan and set aside.
Make the vinaigrette: In a bowl, mix the chives, the honey, the Dijon mustard and the red wine vinegar. Mix well while gradually adding the olive oil. Season with salt and pepper.
Serve: Top the lettuce with the blackberries, the cucumbers, the pecans, the goat cheese pieces and the vinaigrette. Serve with bread croutons if desired.