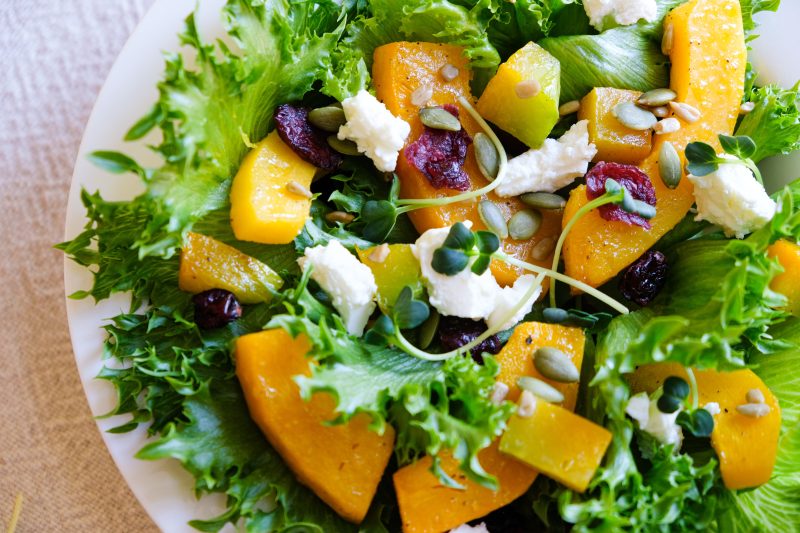 Preparation: 15 minutes.
Cook time: 30 minutes.
Servings: 1 serving
Ingredients
1 package Crispy Lettuce
2 cups cooked squash
50g goat cheese
1/4 cup pumkpin seeds
1/4 cup sunflower seeds
1/4 cup dried cranberries 
Dressing
1 shallot peeled and finely minced
1 teaspoon Dijon mustard
1/4 cup olive oil
Juice from 1/2 orange
2 tablespoons apple cider vinegar
2 teaspoons maple syrup
Salt and pepper
Preparation
Thanks to centre de la courge for providing their delicious squash for this recipe! 
We used 2 varieties in our original recipe : Pink banana and Blue Hubbard.
You can use any type of squash you have on hand from Delicata, Butternut to different varieties such as the ones we tried and loved!
Preheat oven to 350 degrees F. Depending on the squash you have on hand, remove peel and cut into slices or cubes. Add squash to the center of a baking dish and drizzle olive oil, salt and pepper. Toss together and transfer to the oven to roast for about 30 minutes, until tender. Remove and let cool.
Make the dressing. To a mason jar or small bowl, add the shallot, Dijon mustard, juice from 1/2 orange, apple cider vinegar, maple syrup, olive oil, salt and pepper. If using a mason jar, shake it up or whisk in a bowl.
Tear the leaves apart from the heads of lettuce, wash and dry. Transfer to a salad bowl. 
Top the salad with the cooked squash, goat cheese, pumpkin and sunflower seeds, dried cranberries and garnish with the dressing. Toss and enjoy!