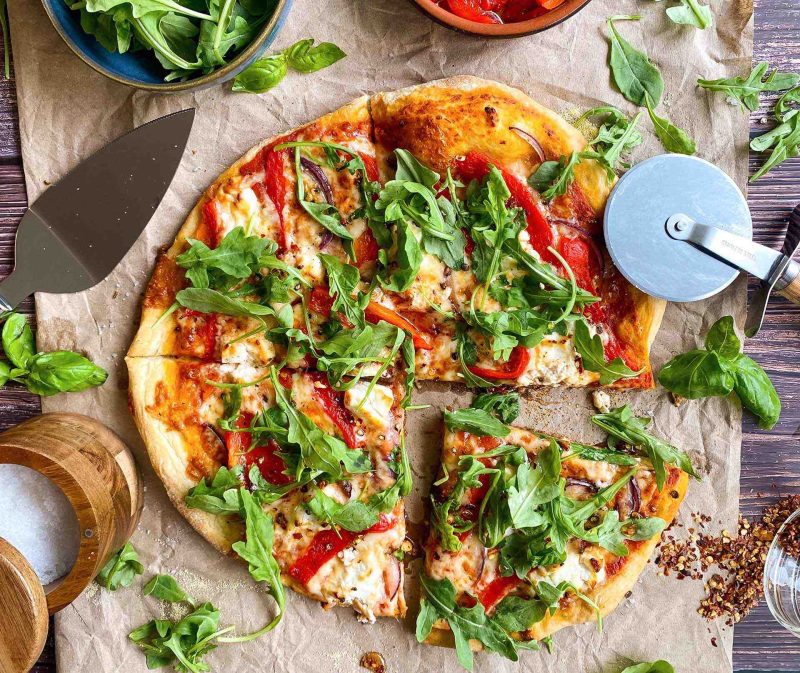 Preparation: 20 minutes.
Cook time: 10 minutes.
Servings: 2 servings
Ingredients
2 red peppers
1 can of San Marzano tomatoes
2 balls of store-bought pizza dough (or homemade)
2 garlic cloves finely chopped
1/4 red onion, sliced
200 g of grated mozzarella cheese
200 g of soft goat cheese, broken into pieces
1/2 cup of arugula
2 tbsp or 30 ml of honey
1 tsp or 10 ml of chili pepper flakes
Preparation
Make the roasted peppers: Preheat the oven to broil and place the whole peppers on a baking sheet. Cook until the skins of the peppers are black, about 10 to 15 minutes, turning them every 5 minutes so that each side is nicely blackened. Remove from the oven and cover with a sheet of aluminum foil. Leave to rest for a few minutes. Remove the peel skin to keep only the flesh and then cut into pieces.
Make the pizza sauce: In a food processor, blender or using a blender arm, blend the tomatoes. Add the garlic and a few basil leaves. Mix well and season with salt and pepper.
Assemble and bake: Preheat oven to 500 ° F. Roll the pizza dough to make two large pizzas. Garnish with the tomato sauce. Add the mozzarella cheese, roasted peppers, onions and goat cheese. Bake 8–10 minutes.
Make the spicy honey: Heat the honey for 15–20 seconds in the microwave. Add the chili pepper flakes and mix well.
Garnish and Serve: Once the pizza is cooked, garnish with the arugula and spicy honey.