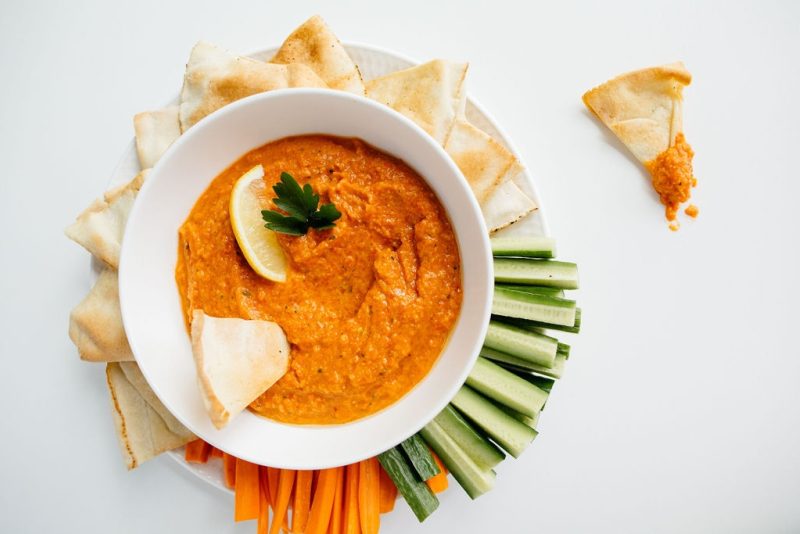 Preparation: 15 minutes.
Cook time: 8 minutes.
Servings: 4 servings
Ingredients
4 Gen V red peppers
1 cup of chickpeas
2 garlic cloves
1/2 tsp or 2.5 ml of onion powder
A few sprigs of fresh parsley
1/2 tsp or 2.5 ml of espelette pepper powder
1 lemon
4 pita breads
1 Gen V cucumber
3 carrots
Preparation
Place the rack at the top of the oven and preheat to broil.
Cut the peppers in half, remove the seeds and the membrane and brush with oil. Put it on a pan with a baking sheet, skin side up, then put it in the oven until the skin turns black. When ready, immediately place the peppers in an airtight container until they are warm.
For this step, use the rack in the center of the oven. Heat the oven to 350 °. Cut the pitas into triangles. In a bowl, mix them with salt and pepper and a drizzle of olive oil. Divide on a baking sheet and cook for 5 minutes until crisp.
Chop the garlic and parsley. Remove the skin from the peppers (it should be easy to remove after step 2). In a blender, grind the peppers, chickpeas, garlic, parsley, onion powder and chili pepper. Add a drizzle of oil and the juice of half a lemon. Salt and pepper. Mix and adjust the seasoning as needed.
Cut the carrots and cucumbers. Serve everything with the pitas as a dip.