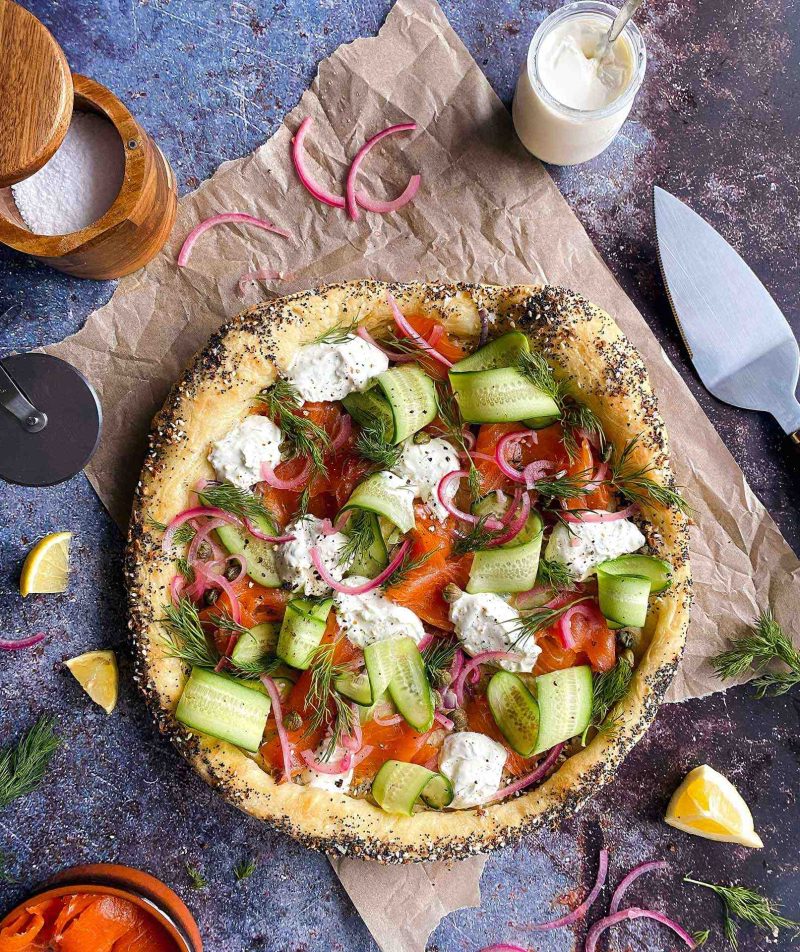 Preparation: 30 minutes.
Cook time: 12 minutes.
Servings: 1 serving
Ingredients
2 balls of store-bought pizza (or homemade)
120 ml of fresh cream or sour cream
1 bunch of fresh dill
1 red onion
4 tbsp or 60 ml of red wine vinegar
1 tbsp or 15 ml of sugar
3 mini-cucumbers
1 lemon
150 g of smoked salmon
2 tbsp or 30 ml of capers
1 tbsp or 15 ml of Everything Bagel Seasoning style spice mix or 1 tsp (5 ml) of poppy seeds, 1/2 tsp (2.5 ml) of sesame seeds, 1/2 tsp (2.5 ml) of dried garlic, 1/2 tsp (2.5 ml) of dried onion and salt
Olive oil
Preparation
Setup: Zest the lemon and cut it in half. Chop about 1 tbsp of dill and separate a few leaves to garnish the pizza. Thinly slice a red onion. Cut the cucumbers into long thin slices, lengthwise, using a mandolin.
Make the marinated onions: In a small saucepan, heat 60 ml of water with the red wine vinegar, the sugar and a pinch of salt. Place half of the red onion slices in a bowl and pour the water and vinegar mixture over the onions. Allow marinating until ready to serve.
Make the fresh cream sauce: In a bowl, mix the crème fraîche with the chopped dill, the zest of one lemon and the juice of half a lemon. Mix well, season with salt and pepper.
Assemble the pizza: Roll pizza dough to make one large pizza, or two smaller pizzas. Drizzle with olive oil. Season with salt and pepper. Add the rest of the raw red onion slices and half of the capers. Drizzle the crust with olive oil and sprinkle the crust with everything bagel seasoning. Cook in the oven for 10-12 minutes.
Serve: Once the pizza is cooked, garnish with the slices of smoked salmon, the slices of cucumber, the crème fraîche sauce, the pickled onions, the rest of the capers and a few dill leaves.