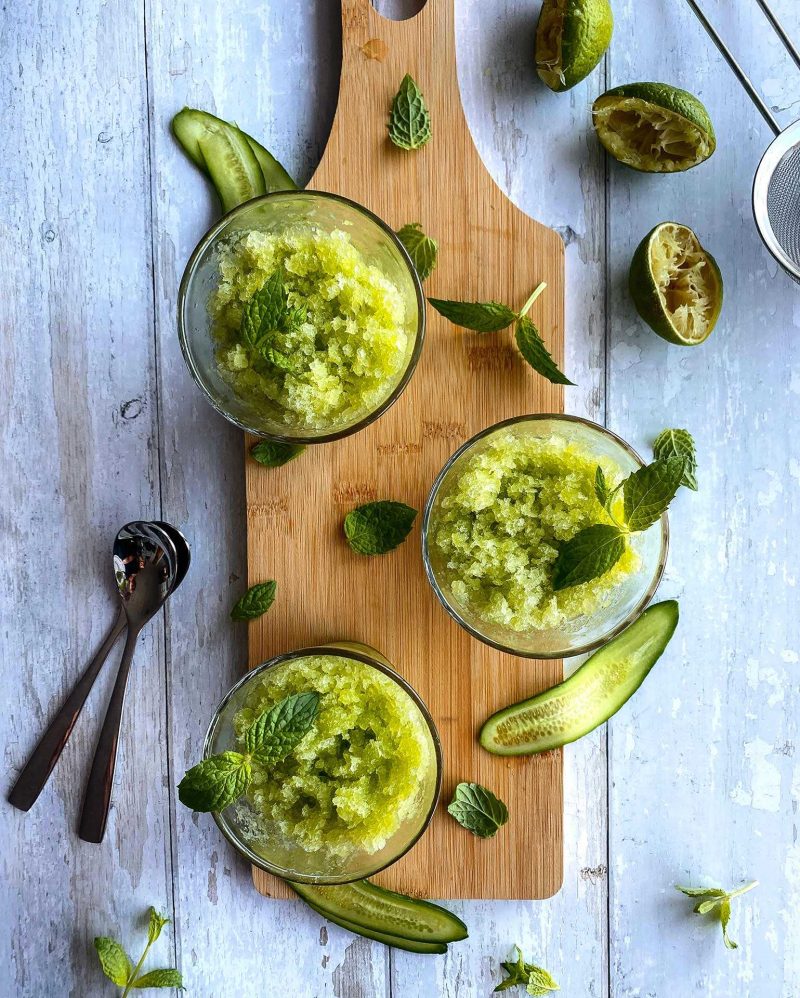 Preparation: 5 hours.
Cook time: 12 minutes.
Servings: 3 servings
Ingredients
4-5 mini cucumbers
1 bunch of mint
4 tbsp or 60 ml of lime juice (juice of two large limes)
1/2 cup or 125 ml of sugar
1 cup or 250 ml of water
Preparation
Make the mint syrup: In a small saucepan, combine the sugar and water. Bring to a boil and simmer until the sugar has dissolved. About 2-3 minutes. Remove from the heat and add the mint leaves. Cover and leave to infuse for 10 minutes. Once infused, pass through a sieve and place in a bowl.
Make the cucumber puree: In a blender or food processor, puree the cucumbers. Add 1-2 tbsp. water to facilitate. Pass through a sieve, pressing well on the cucumber pulp to extract all the juice. Add to the bowl with the mint syrup. Add the lime juice and mix well.
Freeze: Place the mixture in a dish large enough to make a layer not too thick. Place in the freezer for 1 hour. After an hour, scrape the surface of the granita with a fork. Put back in the freezer. Scrape the surface every hour until the granita is ready to serve. It will be ready after a minimum of 4 hours.
Serve: Serve the granita with a few mint leaves.