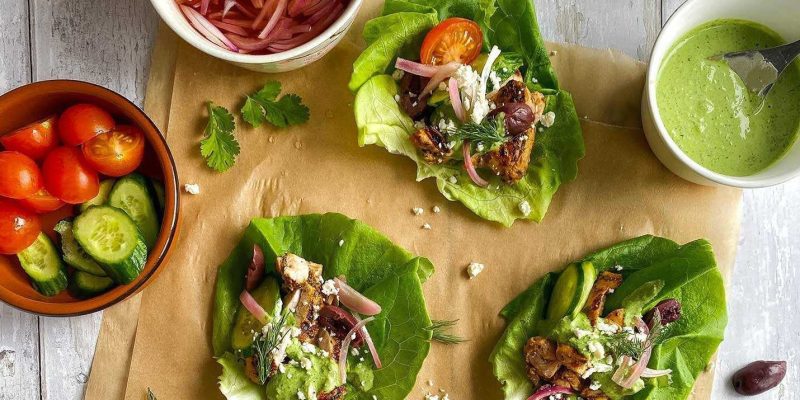 Preparation: 40 minutes.
Cook time: 10 minutes.
Servings: 5 servings
Ingredients
A few Boston lettuce leaves
2 chicken breasts
2 mini cucumbers
1 red onion
1 clove of garlic
1 lemon
1 tbsp of sugar
4 tbsp or 60 ml of red wine
1 tsp or 5 ml of smoked paprika
1 tsp or 5 ml of dried oregano
30 g of crumbled feta cheese
6-8 pitted Kalamata olives
1 tbsp or 15 ml of tahini
1 bunch of basil
1 bunch of cilantro
Preparation
Marinate the chicken: In a bowl, mix the chicken breasts with the smoked paprika the juice of half a lemon and a drizzle of olive oil. Marinate for at least 30 minutes.
Setup: Slice the cucumbers and the onions. Chop the garlic. Separate the basil and cilantro leaves from their stems.
Make the pickled onions: In a small saucepan, heat 60 ml of water with the red wine vinegar, the sugar and a pinch of salt. Place half of the red onion slices in a bowl and pour the water and vinegar mixture over the onions. Allow marinating until ready to serve.
Make the sauce: In a blender, make a sauce with the basil leaves, the cilantro leaves, the tahini, the garlic and the juice of half a lemon.
Cook the chicken: In a skillet over medium-high heat, add the chicken. Cook for 4-5 minutes on each side. Lower the heat and cover. Cook another 3-4 minutes or until the chicken is cooked. Once cooked. Cut in pieces.
Serve: Top the lettuce leaves with the chicken, the olives, the pickled onions, the sauce and the crumbled feta cheese.