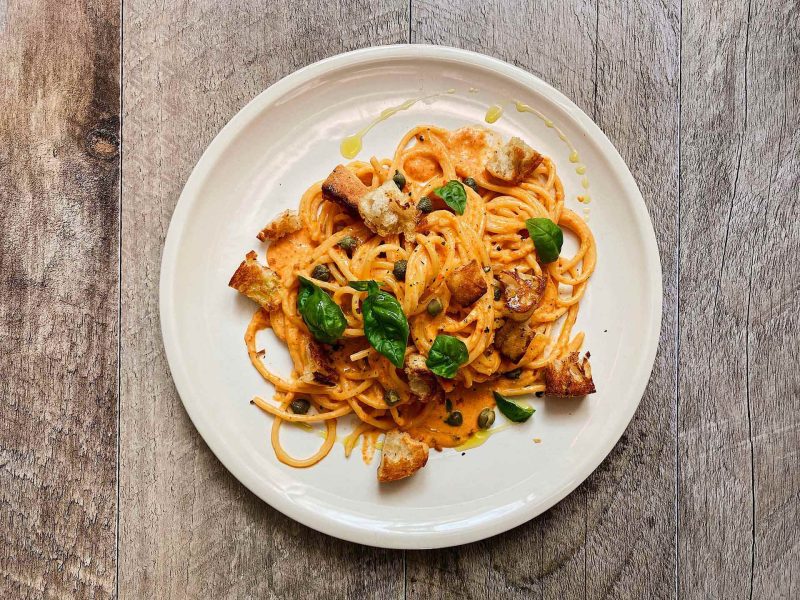 Preparation: 30 minutes.
Cook time: 20 minutes.
Servings: 2 servings
Ingredients
200 g of linguine
2 Gen V red peppers, cut into pieces
1/2 yellow onion, cut into pieces
1/2 cup of 15% cream
3 tbsp or 45 ml of grated parmesan
1/2 ciabatta bread, torn into pieces
2 tbsp or 30 ml of capers
A few fresh basil leaves
Olive oil
Salt and pepper
Preparation
Preheat the oven to 425 ° F.
Place the peppers and onion on a baking sheet lined with baking paper. Drizzle with oil. Season generously with salt and pepper. Bake for 20-25 minutes.
When the vegetables are cooked, transfer them to a blender with the cream, parmesan, a drizzle of oil and pulse until you obtain a smooth sauce.
Heat a generous drizzle of oil in a pan over medium high heat.
Add the pieces of bread to the pan and cook 4-6 minutes until crispy.
Cook the pasta in a pot of boiling salted water for 8-10 minutes. Keep 1/4 cup of the cooking water then drain.
Toss the pasta with the roasted pepper sauce and cooking water. Add salt and pepper to taste.
Garnish the pasta with the capers, basil, croutons and a drizzle of olive oil to taste.