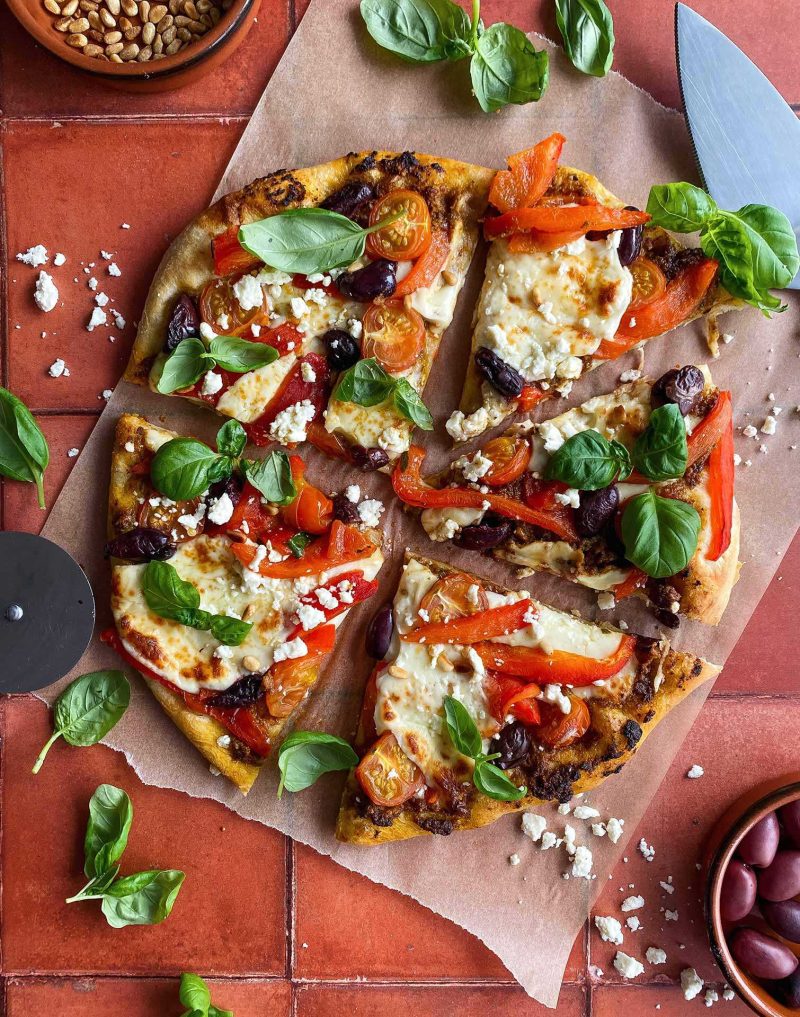 Preparation: 50 minutes.
Cook time: 30 minutes.
Servings: 4 servings
Ingredients
2 balls of store-bought pizza dough (or homemade)
1 red pepper
30 g of crumbled feta cheese
6-8 Kalamata olives
1 bunch of basil
1 clove of garlic
4-5 dried tomatoes
100 g of mozzarella
2 tbsp or 30 ml of pine nuts
Preparation
Make the roasted peppers: Preheat the oven to broil and place the whole pepper on a baking sheet. Cook until the skin of the pepper blackens, about 10 to 15 minutes, turning it every 5 minutes so that each side is well charred. Remove from the oven and cover with a sheet of aluminum foil. Leave to rest for a few minutes. Remove the skin from the peppers to keep only the flesh and then cut into pieces.
Toast the pine nuts: In a skillet over medium heat, add the pine nuts.
Make the sun-dried tomato pesto: In a food processor, blender or using a hand mixer, make a sauce with the sun-dried tomatoes, garlic, pine nuts and a few basil leaves.
Assemble and bake: Preheat oven to 500°F. Roll pizza dough into two large pizzas. Garnish with the sun-dried tomato pesto. Add mozzarella cheese, roasted peppers, and Kalamata olives. Cook in the oven for 10-12 minutes. Once cooked, add the crumbled feta cheese and a few basil leaves.