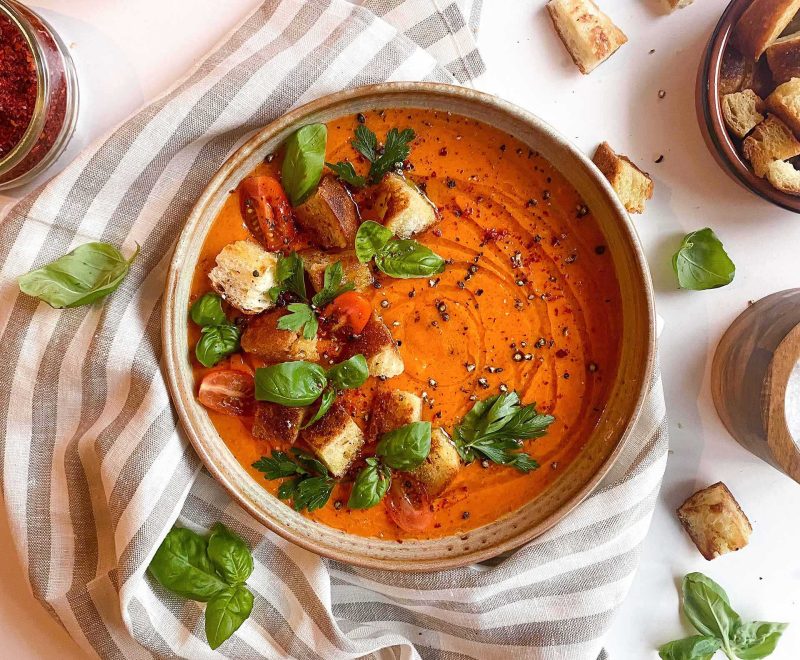 Preparation: 30 minutes.
Cook time: 20 minutes.
Servings: 4 servings
Ingredients
2 red pepers
3-4 mini cucumbers, peeled, seeded, and cut into pieces
1 tomato, cut into pieces
1/2 onion, cut into pieces
1 garlic clove, cut into pieces
3 slices of bread
4 tbsp or 60 ml of sherry vinegar
1/2 cup of olive oil
Fresh herbs for garnish
Preparation
Make the roasted peppers: Preheat the oven to broil and place the whole peppers on a baking sheet. Cook until the skins of the peppers are black, about 10 to 15 minutes, turning them every 5 minutes so that each side is nicely blackened. Remove from the oven and cover with a sheet of aluminum foil. Leave to rest for a few minutes. Remove the peel skin to keep only the flesh and then cut into pieces.
Make the gaspacho: Take a slice of bread and break it into pieces. Soak it in water and wring it out with your hands. In a food processor, blender or using a blender arm, combine cucumbers, tomatoes, onions, garlic, roasted peppers, rehydrated breadcrumbs, and vinegar. Gradually add olive oil. Season with salt and pepper and place in the refrigerator until ready to serve.
Make the croutons: Break the rest of the 2 slices of bread into pieces. In a skillet over medium heat, add a drizzle of olive oil. Toast the bread pieces, 3–4 minutes, until golden brown and crisp.
Serve: Serve the gaspacho. Garnish with a drizzle of olive oil, the bread croutons and some fresh herbs.