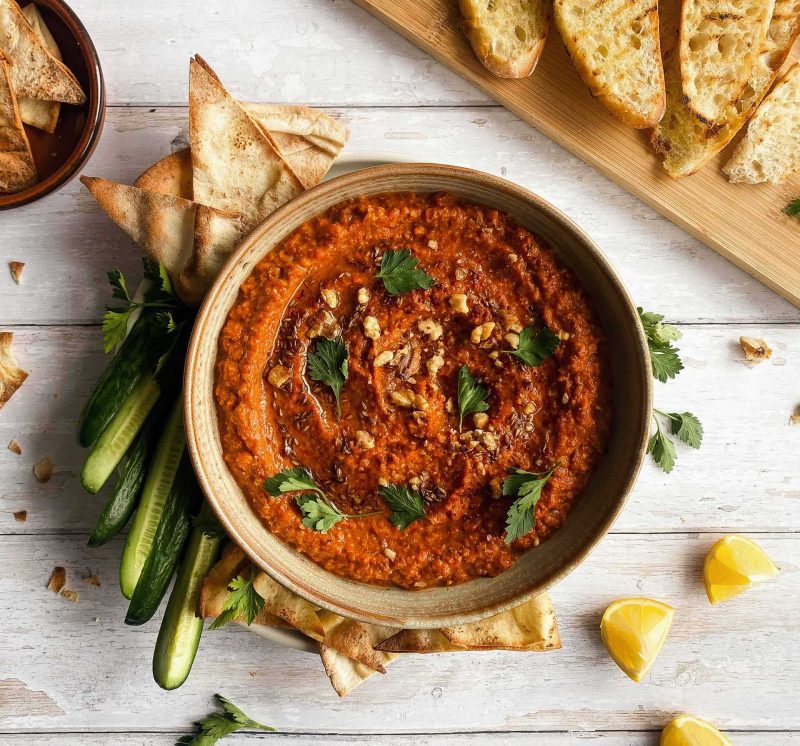 Preparation: 15 minutes.
Cook time: 20 minutes.
Servings: 1 serving
Ingredients
2 red peppers
3  sun-dried tomatoes
Juice of half a lemon
4 tbsp or 60 ml of olive oil
2 cloves of garlic
1 tbsp or 15 ml of pomegranate molasses
2 tsp or 10 ml of cumin seeds
1 tsp or 5 ml of smoked paprika
4 tbsp or 60 ml of walnuts
Naan bread or pita bread
Preparation
Make the roasted peppers: Preheat the oven to broil and place the whole peppers on a baking sheet. Cook until the skins of the peppers blacken, about 10 to 15 minutes, turning them every 5 minutes so that each side is well charred. Remove from the oven and cover with a sheet of aluminum foil. Leave to rest for a few minutes. Remove the skin from the peppers to keep only the flesh and then cut into pieces.
Make the dip: In a blender or food processor, combine the roasted peppers, the sun-dried tomatoes, the lemon juice, the garlic, the smoked paprika, the pomegranate molasses, the walnuts and 3 tbsp of the olive oil.
Make the cumin oil: In a pan over medium-high heat, add the cumin seeds. Heat 1-2 minutes. Add a drizzle of olive oil and heat another 1 minute.
Serve: Serve the muhammara dip. Garnish with the cumin seed oil. Serve with naan bread, pitas, or croutons.