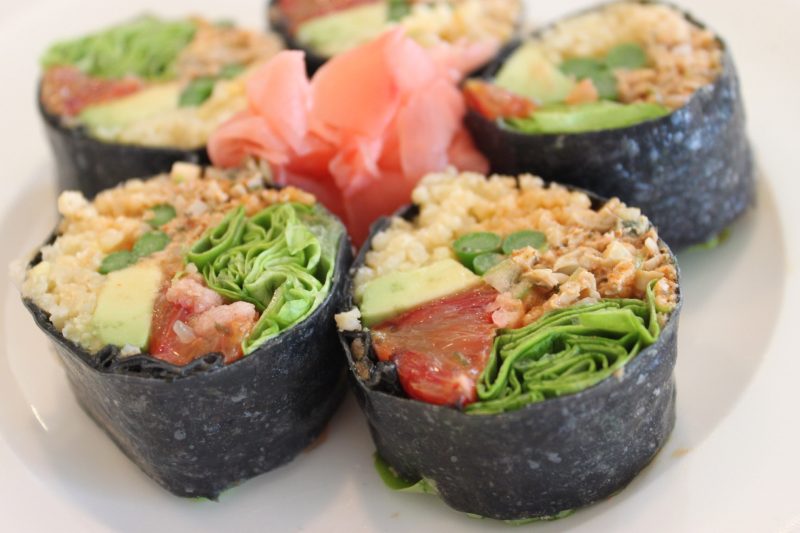 Preparation: 30 minutes.
Cook time: 20 minutes.
Servings: 4 servings
Ingredients
Millet
1/2 cup of millet
1 cup of water
1 tbsp or 15 ml of rice vinegar
1 tbsp or 15 ml of maple syrup
Clams
1 can of 142 g of baby clams, freshly cut
2 tbsp or 30 ml of japanese or regular mayonnaise
1 tbsp or 15 ml of hot sauce (sriracha or sambal oelek)
1 tsp or 5 ml of paprika
Montage
1 head of Gen V Boston lettuce
4 rice papers
4 nori sheets
1 avocado, cut in 8
8 asparagus, baked "al dente"
2 oranges, in supremes
1/2 cup of Rice Krispies
1/4 cup of green onions, grossly cut
Preparation
Bring to a boil the water and millet. Reduce heat to low and cook for 20 min.
Add vinegar and maple syrup, mix, cool.
In a bowl, mix the clams, mayonnaise, green onions, hot sauce and paprika. Refrigerate.
Once all the ingredients are ready, spend a rice paper under water and place on a clean cutting board, overlay a sheet of nori on the rice paper.
Place the millet, two avocado strips, two asparagus, a row of orange supremes, a quarter of the clam mixture, puffed rice and 4 Gen V Boston lettuce leaves, rolled.
Lift and gently loosen the rice paper protruding from the cutting board and roll firmly holding the roll of both hands.
The recipe can produce up to 4 rolls.