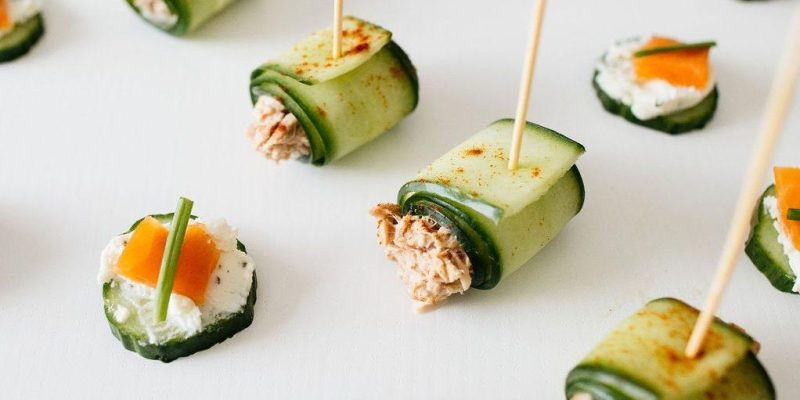 Preparation: 10 minutes.
Servings: 42 servings
Ingredients
For the canapes
1 VÔG mini cucumbers
1 small package or 60 g of smoked salmon
Garlic & fine herbs Boursin cheese
Fresh chive
For the roulades
1 tuna cane of your choice
1 tbsp or 15 ml of mayonnaise
1 lemon
A few sprigs of fresh Italian parsley
Smoked paprika, to taste
2 VÔG cucumbers
Preparation
For the canapes
Cut the VÔG mini cukes into medium slices.
Spread the mini cucumbers with Boursin cheese then add a piece of smoked salmon. Decorate with a piece of chives.
For the roulades
Drain the tuna cane, zest the lemon and chop the parsley.
In a bowl, combine the tuna, mayonnaise, parsley, smoked paprika, the zest and juice of half a lemon. Season with salt and pepper.
Using a peeler, make cucumber strips.
Put a little tuna mixture at the end of the cucumber strips and roll up. Use toothpicks to hold the rolls in place. Enjoy your meal!