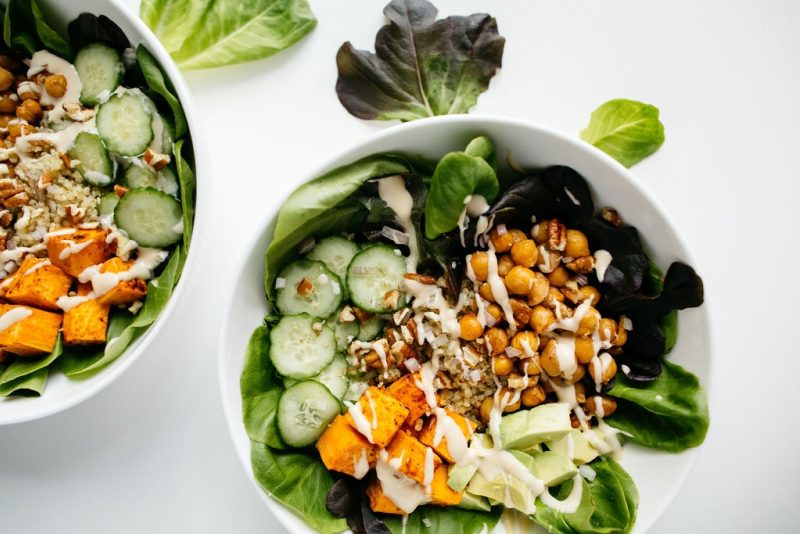 Preparation: 15 minutes.
Cook time: 20 minutes.
Servings: 4 servings
Ingredients
1 package of Salanova Lettuce
2 Gen V mini cucumbers
1 big sweet potato, cut in cube
1 1/2 cup of chickpeas
1 cup of quinoa
1 avocado
A few pecans
1/2 tsp or 2.5 ml of onion powder
1/2 tsp or 2.5 ml of smoked paprika
1 garlic glove
For the dressing
1/2 cup of mayonnaise
1 tbsp or 15 ml of maple syrup
1 tbsp or 15 ml of soy sauce
1 tsp or 5 ml of sesame oil
Preparation
Preheat the oven to 400°. Cut the sweet potato into cubes. In a bowl, mix the chickpeas and the sweet potato cubes, with a drizzle of olive oil, the smoked paprika, the onion powder and the garlic. Season with salt and pepper, and bake for about 20 minutes (until the potatoes are tender).
Prepare the quinoa according to the instructions.
Cut the avocado into cubes and the cucumber into slices.
Whisk together the ingredients for the dressing.
Place all the ingredients in a bowl and garnish with the dressing and few pecans.