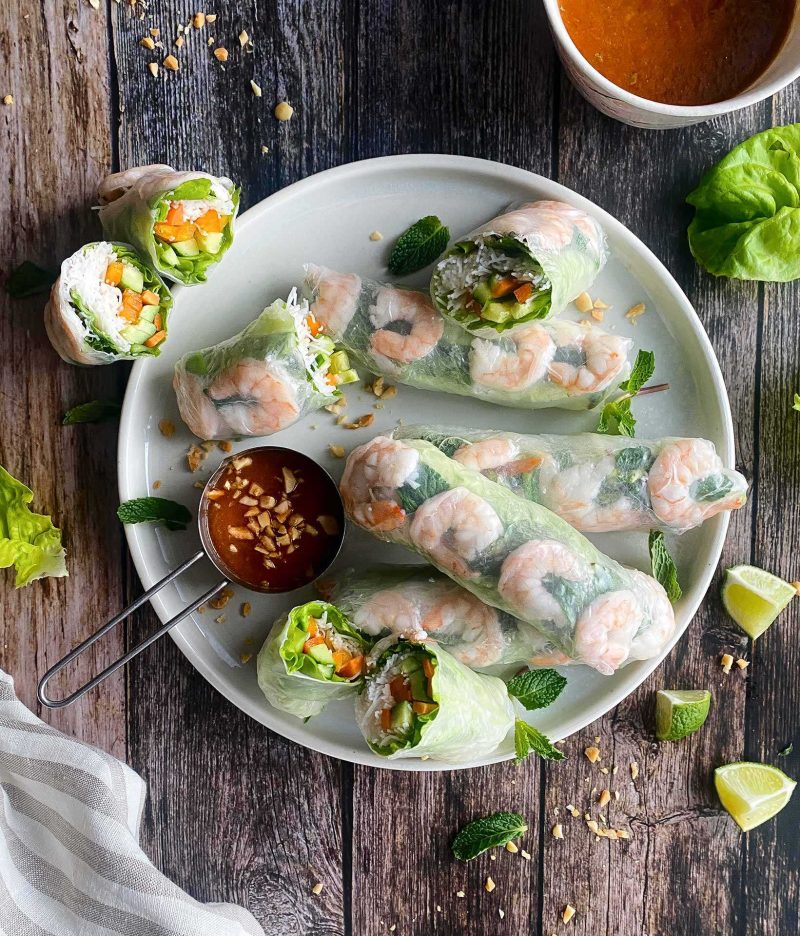 Preparation: 20 minutes.
Cook time: 5 minutes.
Servings: 8 servings
Ingredients
8-10 rice papers
100 g of rice vermicelli
A few Boston lettuce leaves
2 mini cucumbers
2 carots
300 g of cooked prawns
A few minth leaves
1 mango
1 tbsp or 15 ml of rice vinegar
1 lime
1 tbsp or 15 ml of peanuts (optional)
1 tbsp or 15 ml of brown sugar
1 tbsp or 15 ml of sambal oelek
Preparation
Cook the rice vermicelli: Place the vermicelli in a bowl and cover with boiling water. Let cook for 2 minutes. Drain and reserve.
Make the mise en place: Cut the carrot and cucumber into matchsticks. Cut the prawns in half, lengthwise. Separate the mint leaves from the stems. Separate a few Boston lettuce leaves. Peel and cut the mango into pieces. Roughly chop the peanuts.
Assemble the rolls: Fill a large bowl with water. Dip the rice paper for about 5-10 seconds in water. Spread the rice paper on a work surface, textured side up. Place a lettuce leaf, vermicelli, cucumber, carrots, mint leaves and shrimp in the center of the roll. Fold in the sides and roll up. Fold in the left and right edges of the rice paper, then starting at the bottom, roll up to cover the fillings. Then continue rolling firmly.
Make the sauce: In a blender or food processor, purée the mango pieces, rice vinegar, lime juice, brown sugar and sambal oelek. Once pureed, place in a small saucepan. Bring to a boil. Cook for 1-2 minutes.
Serve: Serve the rolls with the mango sauce. Garnish the sauce with the peanuts. You can also remove the peanuts for a nut-free recipe!