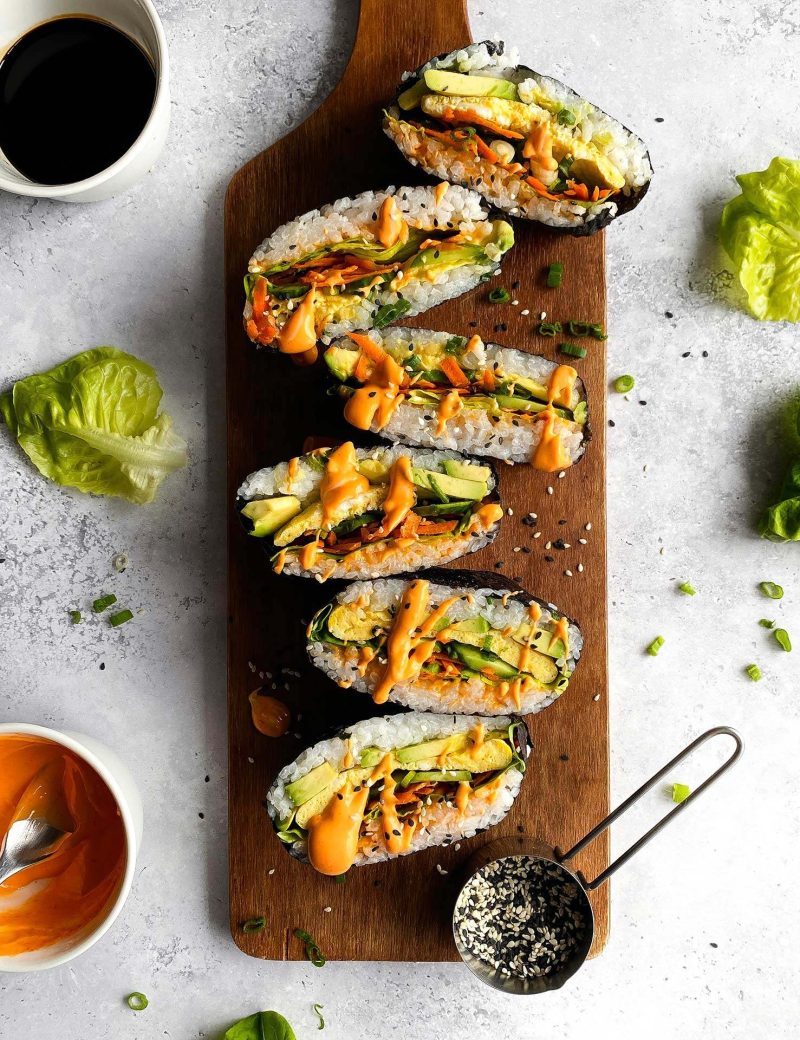 Preparation: 40 minutes.
Cook time: 25 minutes.
Servings: 4 servings
Ingredients
2 cups of cooked sushi rice
3 tbsp or 45 ml of rice vinegar
2 tbsp or 30 ml of white sugar
4 nori sheets
A few Boston lettuce leaves
1 mini cucumber
1/2 grated carrot
1 sliced avocado
2 eggs
3 tbsp or 45 ml of mayonnaise
1 tbsp or 15 ml of Sriracha sauce
1 tbsp or 15 ml of sesame seeds
Preparation
Make the rice: In a bowl, mix the rice vinegar with the sugar and a pinch of salt. Heat for about 1 minute in the microwave's mix well until the sugar is dissolved. Add to cooked sushi rice. Mix well.
Make the omelette: In a bowl, whisk the eggs with 1 tbsp of water. In a pan over medium heat, add a drizzle of vegetable oil. Pour half of the mixture. Cook 1-2 minutes. Roll up and cut in half. Repeat with the rest of the mixture.
Make the spicy mayonnaise: In a bowl, combine the mayonnaise and sriracha sauce.
Assemble: Lay a sheet of nori, shiny side down, on a work surface. Add 2 large spoonful of rice to the center of the nori sheet. Add a leaf of lettuce, grated carrots, a few slices of cucumber. Add the omelette, avocado and 2 larger spoonsful of rice. Fold all sides of the nori sheet over to cover the filling. Close well. Wrap in plastic wrap. Leave to rest for about 10 minutes. Cut in half.
Serve: Serve with more spicy mayonnaise and garnish with the rest of the sesame seeds.